Dear Investor,

It used to be... if you had a $1 million retirement account you were golden. You could easily generate 5% -- or $50,000 annually -- with "no brainer" investments in CDs and Treasuries.

Those were the days... you could retire and live off your dividend checks without a worry. It was so easy, even Aunt Mabel could do it!

But times have changed. Today, yield is hard to come by...

Even those investors lucky enough to have a million-dollar portfolio are struggling to generate any substantial amount of income.

And now with Fed Chairman Bernanke's latest decree to keep interest rates at near zero until at least 2016... historically safe investments including money markets and bonds will continue to yield next to nothing for years to come.

It can be downright infuriating to know how much money you're missing out on... And frankly, I believe this is money you're owed.

You've worked hard all your life and diligently saved your money... and now the safest and easiest ways to protect your nest egg against inflation and generate income were stolen away! All because of some pencil pusher in Washington!

Well, I'm here to tell you that don't have to settle for a 0% yield... You don't have to put your retirement plans on hold...

You can earn a consistent yield -- to the tune of at least 7%! -- right through this so-called "low income" era.

Truth is, income opportunities abound. Though they may not be advertised or detailed in a retirement planning guide... These safe, high-yielding investments pay generous dividends and carry little risk - making them perfect for generating income now and in the months and years ahead.

Here's how you can find these high dividend investments and easily add them to your portfolio:

Hidden dividend plays for income right now

To help you overcome plummeting bond yields and bottom barrel interest rates...

My team of analysts and I published a step-by-step plan for building an income-generating portfolio that pays steady dividends... RIGHT NOW... regardless of which direction the market moves.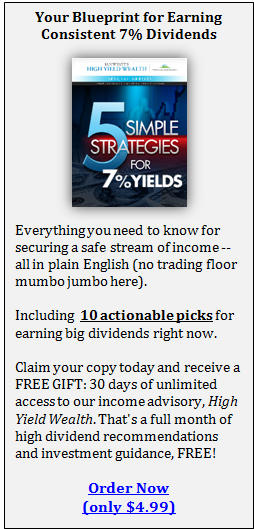 This action plan is titled 5 Strategies for a Safe 7% Yield. And inside its information-packed pages, you'll discover...
10 handpicked investments paying out massive dividends: I reveal my top high yield investments for transforming your lifeless retirement account into a cash-generating money machine for years to come... (Details start on page 5.)


How to avoid dangerous "yield traps:" A high yield looks good on paper, but it's often too good to be true. super high yield can also mean super high risk. And if you're not careful, you could see your principal get wiped out. On page 4, you'll discover how to sniff out yield traps, identify their warning signs, and save yourself thousands!


A sector-by-sector breakdown of where to find safe and secure yields: I've scoured the market searching for the only very best income investments. You'll see exactly where to invest for outsized capital appreciation and dividends across every sector. Energy, Commodities, Financials, Tech, Agriculture, REITs, Blue Chips - no stone is left unturned. (Analysis begins on page 6)

This may be the most valuable and timely document you've read in years.

In fact, a small group of investors are already benefiting from this kind of research and my income-generating recommendations...

Like Donald Reese... he recently banked $1,595 in dividends from an agricultural manufacturer that produces must-have fertilizers. I recommended this company, paying a generous 8.3% dividend, to my readers on February 7, 2012.

Or Gwen Fischer... she received a $1,500 dividend check from a pharmaceutical operation I recommended late last year. This high yield company is swimming in cash and rewarding shareholders with a whopping 9.5% yield.

And Mark R. Sutton... he added $1,316 in dividends to his portfolio from a cash-rich commercial real estate company paying out 9.4%. I originally alerted my readers to this income opportunity on August 1, 2011.

I can't wait for you to get started earning dividend payments like these...

That's why I've made 5 Strategies for a Safe 7% Yield available online, so you can download it instantly, see all my top dividend investments for right now, and put this actionable guide to use right away!

And here's the best part...

With so many people hungry for dividends, research firms are charging upwards of $79 for their high yield reports.

But I want you to be able to enjoy the benefits of safe, secure income investments that offer real returns for your money... Returns that can make a difference in your life... without charging you an arm and a leg.

That's why I've decided to offer this special report, filled with my very best high yield strategies, for ONLY $4.99.

That's cheaper than a single issue of Forbes magazine!

And you're getting everything you need to know for turning your portfolio into an income machine and earning steady cash payouts when you need it most... right now in these difficult times of 0% interest rates.

But it's not enough for me to simply send you this report and wish you well.

I want to make sure you're on your way to generating income and banking big dividend checks over the long haul - with a constant stream of timely high yield recommendations.

That's why when you order your copy of 5 Strategies for a Safe 7% Yield today, you'll also receive 30 days of unlimited access to my exclusive income advisory service, High Yield Wealth - FREE!

(That's two wealth-building resources for just $4.99)

Here's how it works...

Once you claim your report, 5 Strategies for a Safe 7% Yield, you'll get instant access to the members-only High Yield Wealth website, where you'll be able to log in and view all my open positions and pore over every piece of dividend research.

Then, in the next 30 days, you'll receive the latest High Yield Wealth issue via email.

Each High Yield Wealth issue reveals a new income investment opportunity -- handpicked and thoroughly researched by myself and my team of dividend analysts -- that's poised to deliver reliable cash payouts over the long-term.

You also get the full rationale behind this high-yielding recommendation, including any potential risks, so you'll have everything you need to make your own sound investment decisions.

Along the way, you'll also receive updates and alerts on all current portfolio holdings, so you always have our latest research and know exactly where we stand on every income recommendation -- high yield picks including...

A natural gas operation paying out steady 7.5% dividends,


A healthcare company rewarding shareholders with a 8.0% yield,


And a capital-rich firm distributing 9.0% cash payouts.

When you order your 18-page comprehensive report, 5 Strategies for a Safe 7% Yield, you'll get the full details of these companies with your FREE 30 day pass to High Yield Wealth -- PLUS all of these features and benefits:

The latest monthly issue filled with in-depth, proprietary research on a new dividend investment including price targets and detailed projections on how much money you can expect to make.


Timely trade alerts and portfolio updates delivered directly to your inbox, so you don't miss any moves or income opportunities.


New and frequent special reports on some of the best high dividend investments available today as well as strategies for maximizing your profits.


Live customer service during regular business hours and 24/7 access to the subscribers-only website.

Frankly, I've never published a research service that was so universally appropriate for any investor, no matter what age, investor level, or net-worth... until High Yield Wealth.

I urge you to click the "ORDER NOW" button below and snap up your copy of the special income action plan 5 Strategies for a Safe 7% Yield and secure your 30 days of free access to High Yield Wealth -- because there may never be a better or easier time to position yourself for big dividend payouts.


Good investing,



Ian Wyatt
Chief Investment Strategist
High Yield Wealth

P.S. Remember, when you order now and only through this page, you'll be able to view your special report, 5 Strategies for a Safe 7% Yield, and log in to my exclusive dividend service High Yield Wealth... INSTANTLY! This amazing offer to give yourself a steady stream of big dividend payouts with my brand new report and 30 days of free access to my service is available for a limited time only. Click here to order now for only $4.99.

---
* Investing in stocks carries certain risks for loss just as much as it presents opportunities for rewards. While each of the stocks in this new investment report has been thoroughly researched by professional analysts, investors are advised to perform their own research and due diligence before investing. Future returns claims made in this promotion are based on calculations and evaluations made to the best of the ability of High Yield Wealth research analysts, however they CANNOT be guaranteed and should not be considered as such.